Mobile devices are becoming an ever-more prevalent component of supply chain management.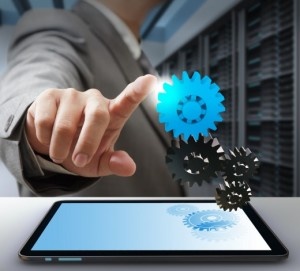 An article on the DC Velocity website highlights some of the ways businesses are implementing mobile technology into their supply chains. Trucking company J.B. Hunt, for example, expects to eventually tag every shipment and provide real-time tracking and delivery information. J.B. Hunt started tracking tractors and now tracks individual trailers. Eventually, radio-frequency identification (RFID) chips could be used to monitor every part of a load, provided the cost of the technology drops.
At Home Depot, company officials predict a future in which a sales representative will design a new kitchen for a customer on a tablet, and then send the order off to production. One day, customers and sales reps will use mobile technology to find products on the sales floor, the article predicts.
It's not surprising to see more widespread use of mobility in supply chain management. Mobile devices are ubiquitous, and the expansion of mobile networks is a companion of that growth. While the article points out many interesting use cases for mobility, I would like to point out two examples that I find particularly interesting: mobility in the warehouse and food traceability.
Mobility in the warehouse: Wireless devices have been in play in the warehouse for some time as part of warehouse management system applications. However, it used to require a much more complex installation, with radio frequency devices and a clear line of sight to ensure that the mobile devices worked.

With today's cellular technology, setting up the infrastructure is far simpler; almost any device can use Wi-Fi to access the Internet. It's much more practical now to set up and take advantage of wireless devices, especially for organizations with a large number of smaller warehouses.

Food traceability: Many companies struggle with tracking food to its origin. However, it's increasingly common to see livestock with RFID tags, as organizations work to get closer to tracing the ultimate origin of food stocks.

Mobile devices enable companies to track food products and understand the environment they were raised in, such as temperature, air quality and rainfall. This is becoming increasingly important as consumers demand to know the source of their food.
The future of mobile technology in supply chain management is bright. It'll be interesting to see how businesses in varied industries apply this technology to their unique operations.
Source: DC Velocity, November, 2013